Customer Comments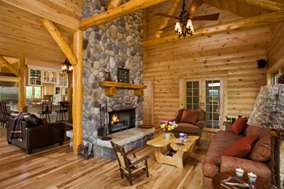 It is a pleasure to write this letter on behalf of Lincoln Logs and to share with you our experience. We purchased a Cabin Series Log Home Package in April of 2008. It took some time to get through the permit process and during that time the economy took a nose dive and Lincoln Logs fell on some hard times.

In the spring of 2009, we were contacted by the new owners to discuss our log cabin plans. As we sat around the table in the model in Warrensburg we had a sense that the new company was genuine and eager to help us develop our dream of a log cabin. We have looked at other Log Home Distributors and one thing that sets Lincoln Logs apart from the rest is their customer service. They sell you a package and they support you, and they continue to support you through the process. Our salesman, has been incredibly patient with us with the many questions we have had through the process. He always returns phone calls and has been a great liaison when we have had questions or concerns.
We are very happy with our log cabin; the quality of the materials and the support that we received was second to none. If you are considering Lincoln Logs for the purchase of your new home, you are making a good decision. We are pleased with the choice we made and would be happy to share our experience with anyone considering a purchase.
Lenny & Nancy Campagnone
Queensbury, New York
---
We have owned our property in Silver Bay, New York, for several generations and decided in 2008 to build a seasonal log home to enjoy the summer months with our children and our grandchildren.
The decision to purchase a Lincoln Logs package was an easy one because we knew the Lincoln Logs had an excellent reputation for producing a quality product that would last for generations. We also wanted to deal with a company located in the Adirondacks with extensive experience supplying log home packages to the region.
Per our request, Lincoln Logs provided us with the names of builders in the area who had experience building their log home packages. All recommended builders we interviewed were excellent, but one one builder in particular stood out as the most professional. His experience was extensive and it became clear to us quickly that he took great pride in his craftsmanship and in his attention to detail. Although Lincoln Logs could not and did not recommend one builder over the others, we were grateful to Lincoln Logs for providing us with a sufficiently extensive list of builders from which we could make our selection.
During the construction phase of our log home, the deliveries to the site were on time during the winter months and were paced at our convenience. When our builder needed to exchange shorter log corners for longer ones, Lincoln Logs was very accommodating and complied with our requests in a timely manner. Without reservations, we can say that Lincoln Logs provided the best customer service we have ever experienced.
Robert and Tatiana Berls
Annandale, Virginia
---
"It had always been a dream for my wife and me to build a log home, and a few years ago we decided to stop dreaming and do it. We spent a day at the Lincoln Logs home and left feeling like friends, not just customers."
Trevor and JoAnne
---
"We are nearing completion of our new home and would like to thank everyone at Lincoln Logs for your continuing support and flexibility through our project, especially our Sales Associate, Chris. He was there for us from the beginning, constantly calm and reassuring even when we were at our most nervous. We are deeply grateful for his input and help."
Betsy and Michael
---
"We love our cabin in the woods. I did extensive research regarding log home package providers before selecting a log home company. In my opinion, Lincoln Logs provides the best value per dollar in its log packages relative to its competition. More importantly Lincoln Logs did not forget me after they got my check. The entire Lincoln Logs family was a pleasure to do business with."
Carl
---
After over 50 years in the Specialty Steel and Window Manufacturing industries in New York State, I subsequent to my second retirement decided to establish a new residence in my town-of-birth in Illinois.
On the basis of appeal of several Log Homes on lake and mountain sides in New York State, I chose this style of house to be built in a timber area in Illinois. Of the three log manufacturers interviewed, I selected Lincoln Log Homes due to their manufacturing experience, demonstrated quality of product, recognized service, and most importantly cooperative attitude for custom design.
Starting with their basic Bristol III Model, Lincoln Log's Sales Representative, Kiley Stoops expertly contributed to design modifications most suitable for construction on a sloped terrain.
Through Kiley's arrangement, I was fortunate to tour Lincoln Log's Manufacturing Facility in Chestertown to observe first hand the production of logs for my Illinois home.
Needless to say, residents in my town-of-birth are not only impressed with the functionality and comfort, but also awed by the magnificence of my Log Home. My appreciation is extended to all Lincoln Log personnel involved in the timely design, manufacturing, and delivery of logs for my home.
Respectfully,
Phil Frederick
Retired in Illinois
---
"From the inception to the completion, and beyond, our warm relationship with the Lincoln Logs' staff will always be an important part of our life. We highly recommend Lincoln Logs if you are looking for a quality log home and wonderful, supporting people to work with."
Rod and Priscilla